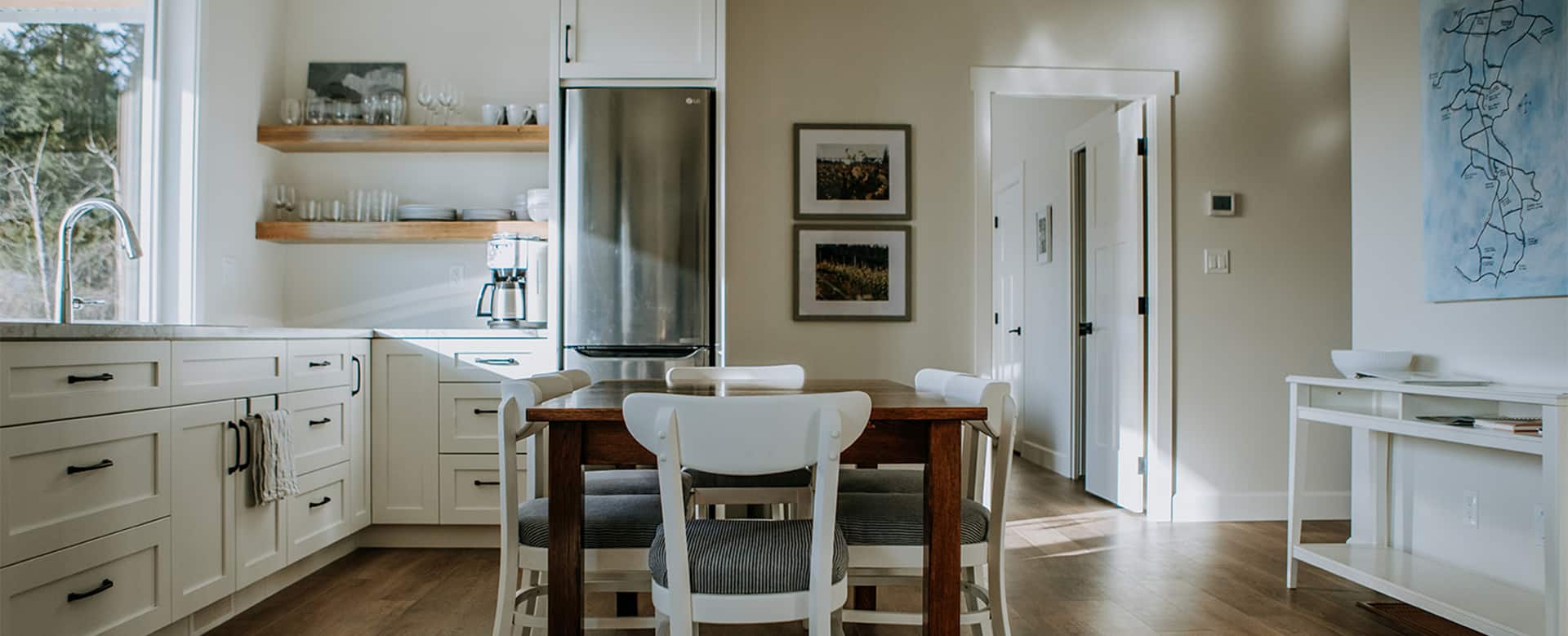 Emandare Vineyard Guest House
The Emandare Vineyard Guest House was designed and built as a restful haven. With a view of Somenos Lake and 8.5 acres of vineyard from your bedroom window, this location is surrounded by the delights of the Cowichan Valley. With 2 spacious bedrooms and 2 bathrooms, this custom home makes a wonderfully luxurious getaway. The exterior style is farmhouse.
We worked with the clients to manage the ALR land, municipal, and riparian restrictions. As a result, developing this property posed a unique challenge. For instance, there was no kitchen in the design in order to meet the municipality's restrictions. However, with a fully functional bar for comfortable wine & cheese pairings, the space doesn't feel lacking.
This custom home was a carriage house build. This style refers to detached garages that have living space above them. This type of home allowed the owners to maximize storage of vineyard equipment, but also created short-term rentable space above. Most importantly, while planning this build, we looked to use as little of the useable vineyard land as possible.
In addition, other key elements include: durable luxury vinyl plank flooring (an ideal solution in rental situations), black powder-coated metalwork for bracing post and beam timbers, and blue painted entry doors to match the existing house.
One of the most noteworthy features of this Guest House is the 400 square feet of front deck space overlooking the vineyard and Somenos Lake. Further, this carriage home is maintenance friendly with in-suite laundry and a central vacuum. The interior design and kitchen cabinetry were created by the owner.
"We couldn't be happier with the experience and professionalism of the team at Made To Last. They truly went above and beyond our expectations while making our dream come true with this build. Practically speaking, we were so impressed with their attention to detail and their ability to keep transparent communication with us as a priority every step of the way. Whether it was design decisions, or how the budget was panning out, we felt confident in how well they kept us informed. A truly professional company built on character and integrity. We will recommend them over and over."
Interested in building your own custom home? Contact us, we'd love to hear your ideas.