As we reach Spring on Vancouver Island, it's always a good time to look around the house and think about home maintenance.  Perhaps you hope to host family and friends at your home in the coming months. Or maybe you are considering selling your home. Regardless, home maintenance is an important thing to keep up with on a regular basis. Whether you get to enjoy one of our recent custom home builds, live in an older home, or are planning a major renovation, home maintenance is not something to neglect. And beyond simple maintenance, there might be a few things you can do yourself that will instantly improve the feel of your home.
Home Maintenance
If you have a Made to Last Custom Home, you would have received a Home Maintenance Manual upon completion of your build. In it, you will find a copy of your New Home Maintenance Schedule near the end of the manual. We have sorted your home maintenance into monthly, spring, summer, winter and fall, to make your tasks easier to tackle. At Spring, it is a great time to pay special attention to the exterior of your home. Clearing your gutters and downspouts, cleaning your windows, and checking your roof for defects are great places to start. If you need assistance with the maintenance of your custom home, we at Made to Last are here to help and we'd love to hear from you.
If you have not yet built with Made to Last, don't worry, you can download a copy of our home maintenance schedule here. While designed for our custom homes, our schedule provides a detailed list that will help extend the life of your current residence.
DIY Home Improvement
With recent inflation and increased interest rates, financial uncertainty has become a concern for many.  The idea of tackling the major renovation project of your dreams might have to be put on hold. However, there are many small projects you can tackle yourself that can bring big change.
1. Re-Paint a Room
One of the simplest changes you can make to a room that will have the most dramatic impact is to change the colour of your walls. If you have a room that is looking tired, dated, or dark, re-painting the walls could bring your room back to life. At Made to last, we often use Cloverdale paint inside our custom homes. They have some great information on their website to help you get started on transforming your space.
2. Update Kitchen and Bathroom Hardware
While this small change might seem time-consuming, it can go a long way in updating and improving the look of your home. This could also be a home maintenance item for you if you have a fixture, knob or handle that has broken or come loose, and you haven't had time to fix or replace it.
3. Paint Your Kitchen Island or Bathroom Vanity
This is a great home improvement technique that is affordable with a dramatic result. Try going bold and giving your kitchen island a pop of colour, like this home renovated by Made to Last.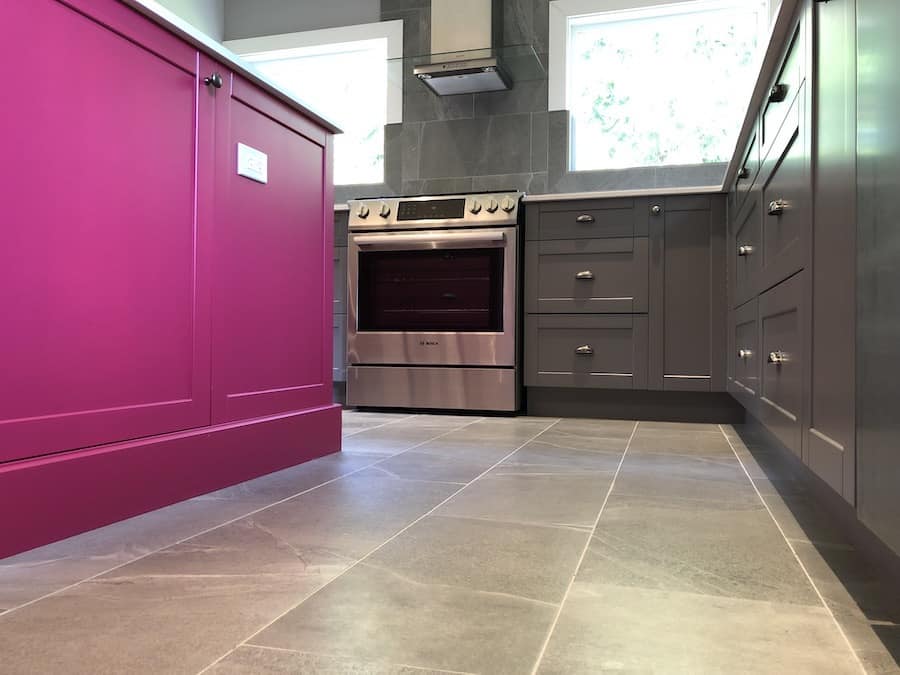 4. LED Light Bulbs
If you are looking for a low-cost home improvement idea that will also save you money, changing all the lightbulbs in your home to LEDs is the way to go. LED bulbs are more efficient than traditional fluorescent or incandescent bulbs. LEDs are 80% more efficient and 95% of the energy they use is converted to light, with only 5% converted to heat. LED bulbs also last up to six times longer than traditional bulbs.
5. Install Smart Switches
Light switches are probably one of the features of your home that you never think about. But changing out your old switches for smart switches is a great way to improve your home. Smart switches let you control your home from anywhere, whether you are at work, in bed, or anywhere in-between. If you're a tech-savvy person, this is also a great place to start if you dream of turning your house into a smart home.